Breaking away from Downtown Savannah and the Riverside area, you head up into the Historic District. This is also where you'll find the southern boundary of the open container area (more on that below). We're picked our favorite restaurants in the Historic District, particularly that are good for families. Enjoy these great spots, and check back often for updates!
Note: this list is ever evolving and is NOT comprehensive. We've included places that we really enjoy and return to. If there's a spot that's missing, either we haven't been yet or didn't like it enough to include it. Feel free to leave a comment or send us a note if we're missing a great place to eat in the Historic District!
Best Places to Eat in Savannah's Historic District
Heading north away from Forsyth Park (where there are also great places to eat) we come into the Historic District (we were in the Victorian District). Known for its row houses and tree tunnels, the Historic District is chalked full of great places to eat, many of which are Savannah restaurant staples (to us!). Wandering this part of the city is one of our favorite things to do in Savannah.
Note: the Historic District north of Jones is the area where you can take alcoholic beverages to-go (see map above). While it's unlikely that you'll be stopped or questioned about a drink south of Jones St, the official boundary starts there and continues to the Riverfront.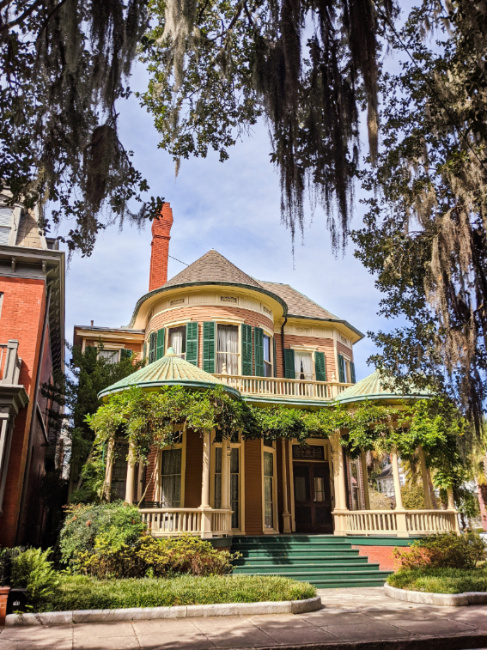 Gryphon Tea Room- Brunch and Tea (no adult beverages)
While it may not be exactly like enjoying afternoon tea in London, brunch and tea at Gryphon is a nice addition to our list of the best places to eat in Savannah. A part of the Savannah College of Art and Design (SCAD) Gryphon makes brunch or lunch a very calm, elegant experience.
The menu is very fresh and local, with dishes you'd hope for, like sweet or savory crepes, or a selection of scones with cream. And of course many tea varietals. Brunch at Gryphon Tea Room is a very different dining experience. Website here.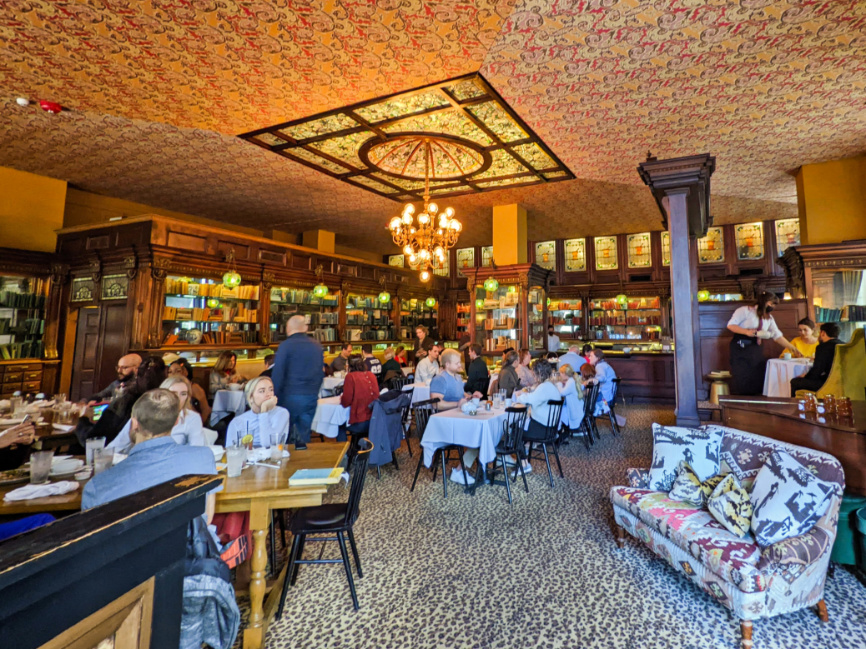 The Public – Awesome Cocktails
The Public is very unassuming from the street, but then when you walk in it's like a mid-century lounge meets a futuristic dining room. I love it. There's also plenty of sidewalk seating for anyone looking to enjoy one of the best places to eat in Savannah AND do some people watching.
For lunch order the ham and brie sandwich or the Havannah (yes, that's spelled correctly) and then a Snowbirds Flying South or a Harvest Moon cocktail. They are partner restaurants with Franklin's next door, so they have awesome desserts too. Website here.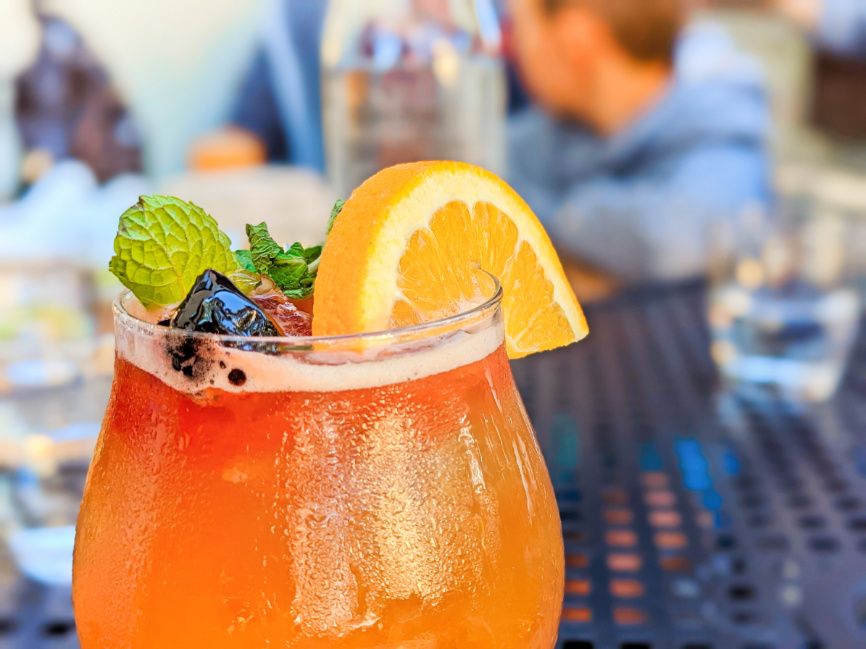 Franklin's – Coffee and French Breakfast and Pastries
This is the place I was just saying is partnered with the Public! It's a gorgeous coffee shop with sandwiches and pastries too. If you've never had a croque monsieur GET ONE HERE! Franklin's does a wonderful job creating and serving European style coffee and eats. One of the best places to eat in Savannah for sure. PS: they do coffee cocktails too… Website here.
Savoy Society – the BEST Place to Eat in Savannah
Yes, I said it: the Savoy Society has the best cocktails and small bites of all the places to eat in Savannah that we've tried (and we dine out a ton!). Why I love the Savoy Society is because they really work to make their food and drinks unique. They're unique in a way that is thoughtful and sometimes obscure with the ingredients, not unique in a "Why did somebody make this weird combo?" sort of way.
My absolute favorite thing to eat at the Savoy Society is the Korean Meatball Slider. It's off-the-wall delicious. When it comes to cocktails, there are a few top picks from their very interesting Savannah cocktail menu:
Going Down Proper
Eyes Without a Face
Boy, Write Your Name!
You'll love the Savoy Society, and I know you'll agree that it's one of the best places to eat in Savannah. Website here.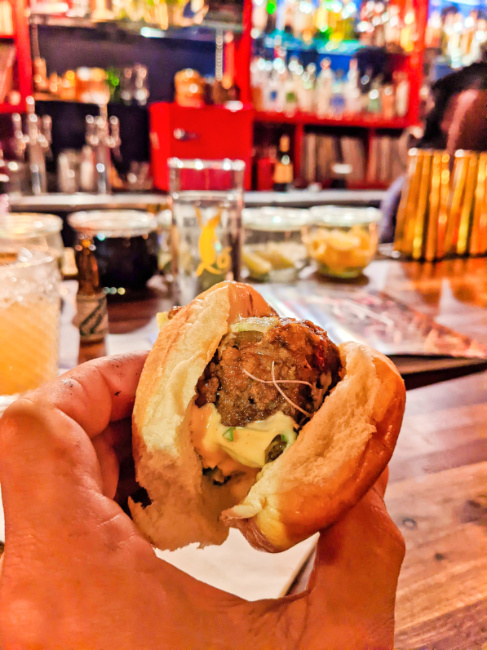 Hitch – Delicious, Cool Southern Cooking and Cocktails
I know exactly how long it takes us to walk from our place to Hitch, because it's become a standard for us. We ate at Hitch for the first time on our very first trip to Savannah, and have since been back four times. The gimmick of Hitch is that it's all your favorite foods that might not seem super classy, classed up and combined to make delicious dishes.
The kids' favorite thing to get is the Mac N' Cheese Quesadilla, while mine is the Grilled Apple Pie w/ Chicken. Not only is it the perfect combination of sweet and savory, but it's also some of the best fried chicken in Savannah.
The cocktails at Hitch are also fun and interesting. Our top picks are the Cherry Cola, Grapeful Dead and Cactus Pear Margarita. So good and never a bad dining experience! Website here.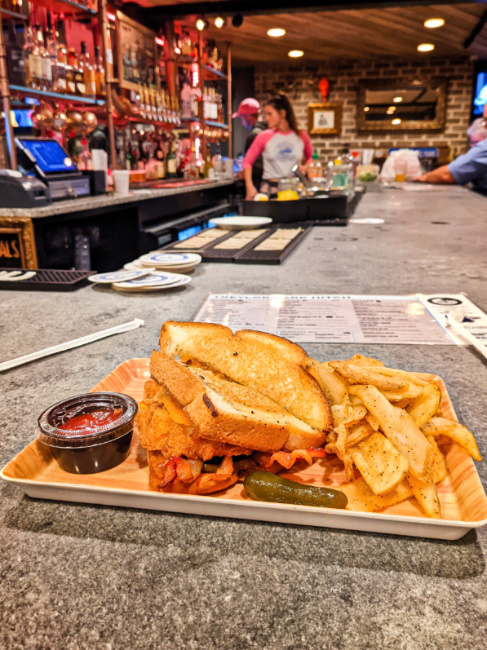 What's the Scoop on To-Go Alcoholic Beverages?
Savannah is known for many things, and one aspect of enjoying the best places to eat in Savannah is taking a alcoholic beverage to go as you finish your meal. From the Riverfront to Jones Street through the downtown and Historic District, you can enjoy adult beverages in open plastic containers.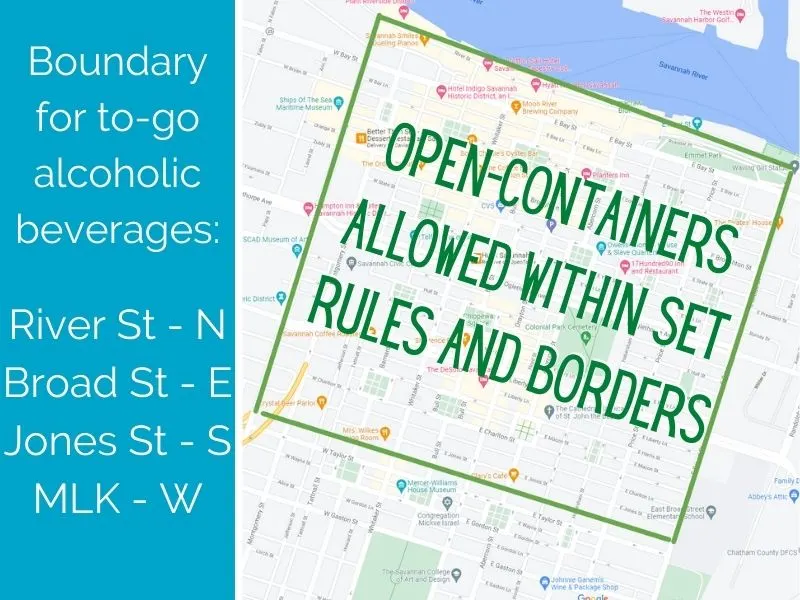 "Can I bring my own drinks for walking around?"
While technically no, many people enjoy wine or champagne picnics in Forsyth Park and the many squares of the city. Yes, Forsyth Park is south of the boundary of the to-go alcoholic drink zone, but it seems to be acceptable. If you leave your hotel room or AirBNB and head out with a beverage, it's unlikely that you'll be questioned, but if you are and it's outside of the zone, don't blame me if you get in trouble.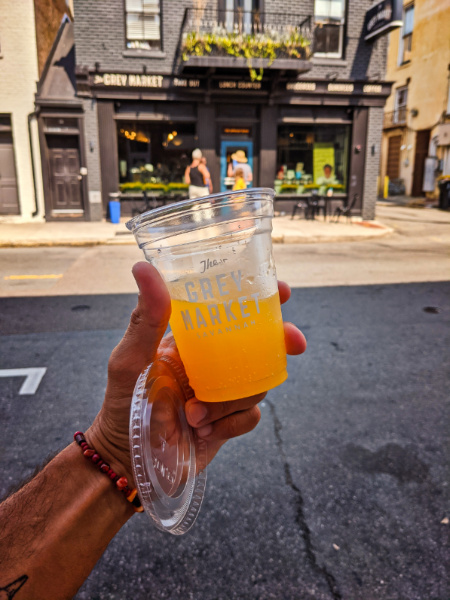 "How Do I get a to-go alcoholic drink?"
It's easy to enjoy a roadie aka walk-tail aka to-go beverage. The best places to eat in Savannah all understand the policy of public drinking and if it's appropriate to their neighborhood and your own consumption level, they'll get you set up with a plastic, disposable cup with your drink.
There are also shops you can get to-go alcoholic drinks from. On River Street (the Riverfront) there are a few, as well as in the City Market area. They'll have their own branded plastic cups and you can select drinks from cold cases. The drinks must be opened in the store and poured into the cups, then or moments later, but then you're free to wander.