Where to Stay in Savannah: Historic District Stays You'll Absolutely Love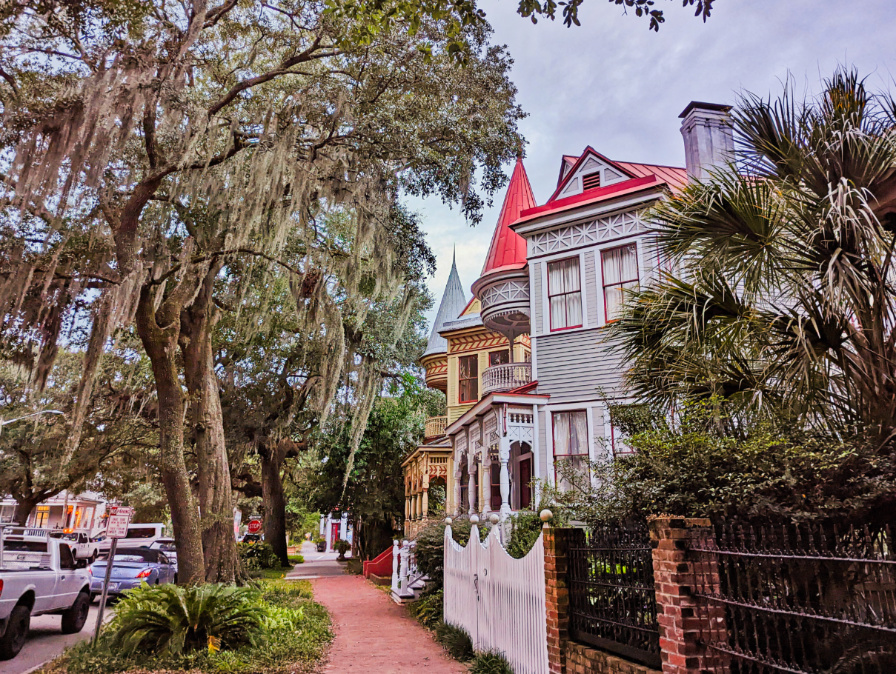 If you're unsure where to stay in Savannah, this guide to inns and hotels in the Historic and Victorian Districts will help you choose a great place for your visit. Top picks of historic hotels and charming inns in Savannah, Georgia.
The Historic and Victorian Districts of Savannah offer visitors a variety of luxury hotels and inns to choose from. If you're trying to find a historic hotel with southern charm or a charming inn with all the amenities, Savannah has something to offer everyone. We've got options for you to check-in when you're in the Historic and Victorian Districts in Savannah.
The historic neighborhoods of Savannah are some of Georgia's most beautiful. The area is filled with stunning Victorian-style homes, as well as a variety of restaurants, shops, and parks. Visitors to the area will enjoy taking a stroll through the neighborhoods to see the unique architecture and learn about the amazing history of this fascinating area. There are also a number of great museums and attractions in the area that offer an insight into the culture and heritage of Savannah, from the Underground Railroad to the film industry. Whether you are looking for a place to stay during your next vacation or just want to explore one of the most distinct areas in the country, the Victorian District is definitely worth a visit.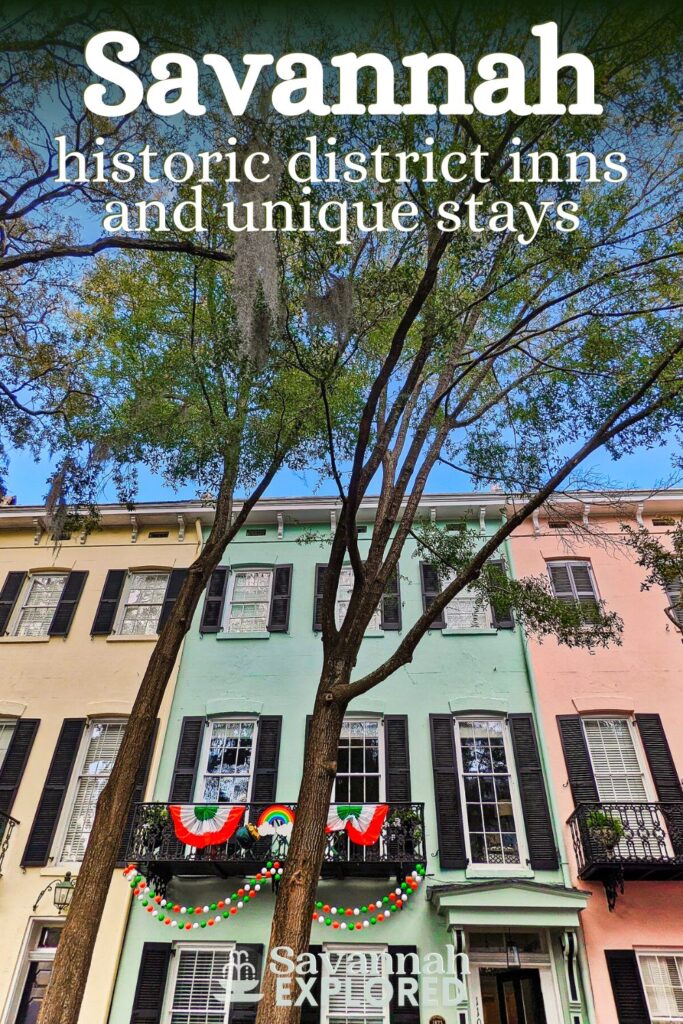 Choosing Where to Stay in Savannah
How do you choose where to stay in Savannah? Do you just find a hotel that's the right price or do you look for character or location? Luckily, Savannah has historic stays from the riverfront to the neighborhoods, so no matter where you choose you'll be sure to have a visit that is true to the Hostess City's charm.
Here's a map to give you an idea of the layout of Savannah's districts.
The Historic District
If you are looking at what is officially called the "Historic District" you'll be trying to find a hotel that's just up from the river and then within about six blocks to the south and four blocks to the east or west of Bull Street. This is where you'll find the main shopping areas, TONS of restaurants, bakeries and bars, and the primary gathering areas for Savannah. City Market, Ellis Square and Liberty Street fall within the Historic District.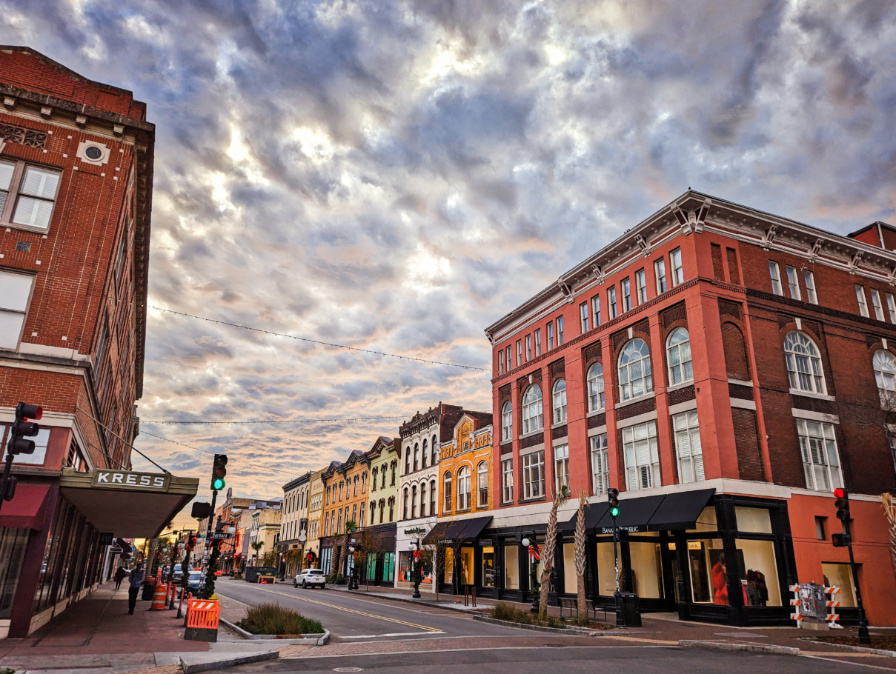 The Victorian District
Continue south and you come to the "Victorian District" which is split into East and West by Forsyth Park. While this area is primarily bedroom neighborhoods (where people actually live, including where we live) there are quite a few historic inns and hotels peppered throughout. Most of these properties are in large Victorian houses and are run like traditional bed and breakfasts. The perks of staying in the Victorian District are the quiet calm, the small cafes and easy access to Forsyth Park, which is the heart of Savannah Life.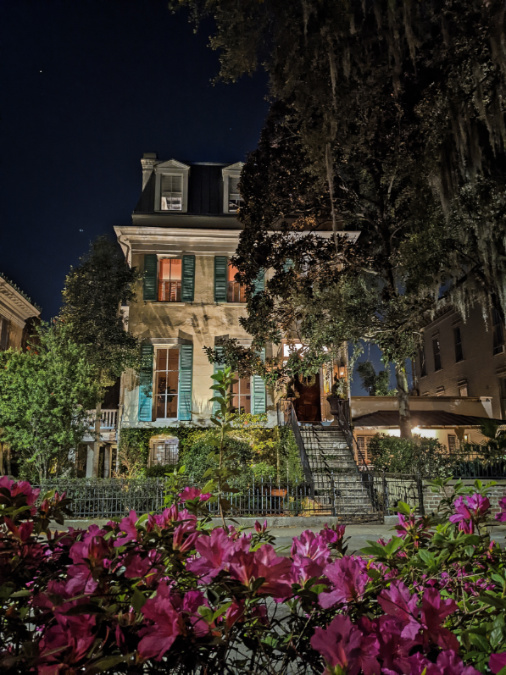 Starland and South Savannah
Lastly, the Starland Metropolitan neighborhood and areas to the south of Forsyth Park are very residential. This is also much more of an up-and-coming neighborhood. SCAD, the Savannah College of Art and Design, has several buildings here so there is a strong student vibe. You'll find lots of restaurants along Bull Street and 37th Street. I like this part of Savannah, but it is much less glossy/fancy than the Historic or Victorian Districts.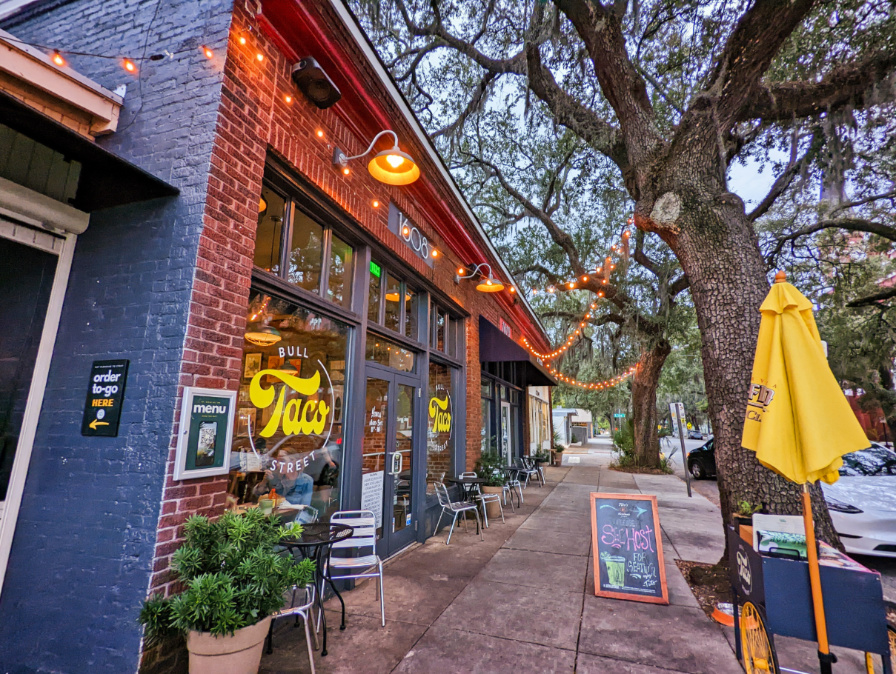 Top Historic District Hotels and Inns in Savannah
Since we're all about enjoying the historic atmosphere of Savannah, we've put together our top picks for Historic District stays. We've chosen a few from different areas within the Historic District, Victorian District and even as far south as the Starland District. Any of these inns are great options for a delightful visit to Savannah.
The Gastonian
The Gastonian is a historic inn situated in two adjoining mansions that were built in 1868 and feature Regency-Italianate style architecture. The Gastonian offers luxurious accommodations and is just a 3-minute walk from Forsyth Park and 1 mile from I-16. Guests can enjoy Southern hospitality at its finest while staying at this unique inn. A bonus of this particular location is that parking is really easy!
Book the Gastonian on Gaston Street here!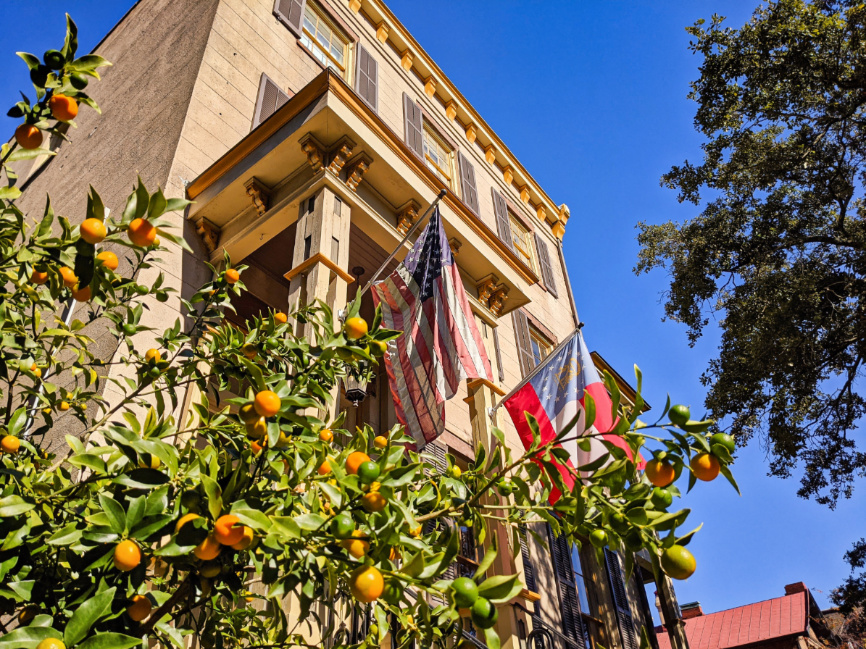 The Grant Hotel
The Grant Hotel is a beautiful, historic space that's within walking distance of many shops and restaurants, located directly on Broughton Street. The hotel offers a variety of unique and stylish apartments, each with its own amenities. There is also an on-site fitness center and laundry facilities. The Grant Hotel is a great place to stay for business or pleasure.
Note: being directly on Broughton Street does mean that you're going to be in the busiest part of downtown, which is good and bad.
Book the Grant Hotel on Broughton Street here!
Justine Inn
The Justine Inn is a fully restored 1877 brownstone is just two blocks from Forsyth Park and within walking distance of all the great places that Savannah has to offer. Justine Inn offers the perfect mix of historic charm and modern luxury, and it's got that colorful kitschy flare you might be looking for in a historic inn by the park. Whether you're in town for business or pleasure, the Justine Inn provides a quiet oasis to relax and unwind at the end of the day.
Book the Justine Inn by Forsyth Park here!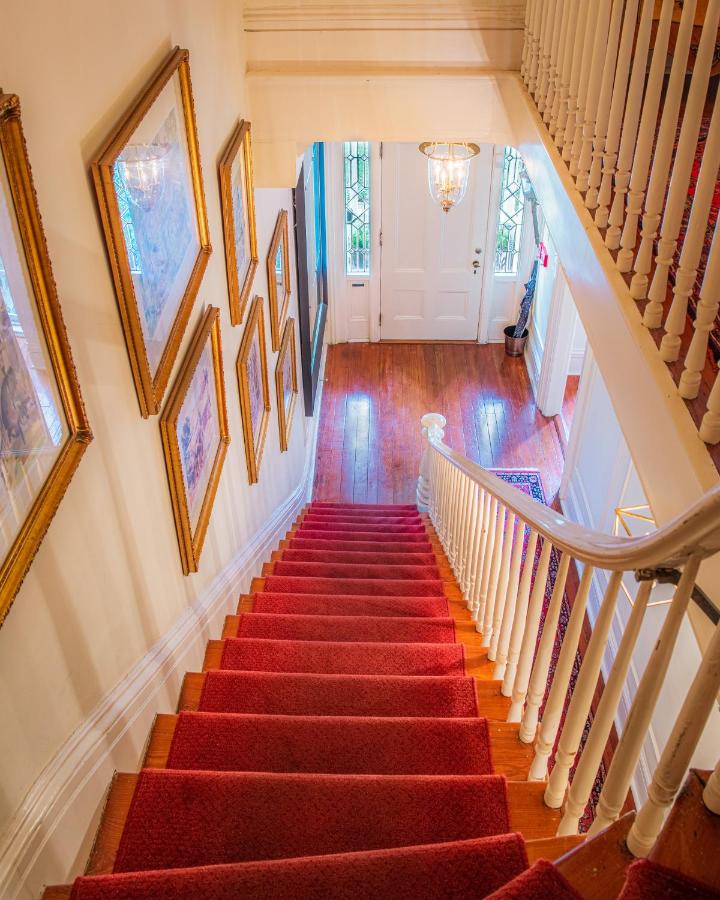 Amethyst Garden Inn
Amethyst Garden not only has a rich history, but its originality shines through in its character as well. This private mansion dates back to 1885 and has been fully restored with Magazine-worthy results. I love that it's purple! If you're looking for elegance during your stay and wish to immerse yourself in some Southern Victorian luxury, then look no further than Amethyst Garden!
Something that, I think, is quite the bonus about the location here and what makes the Amethyst Garden Inn a great spot to stay in the Historic District is that it's east of Forsyth Park. Directly around Bull Street and near Broughton is where most visitors will tend to flock to. The Amethyst Garden Inn is very close to the cathedral and several less-visited squares.
Book the Amethyst Garden Inn here!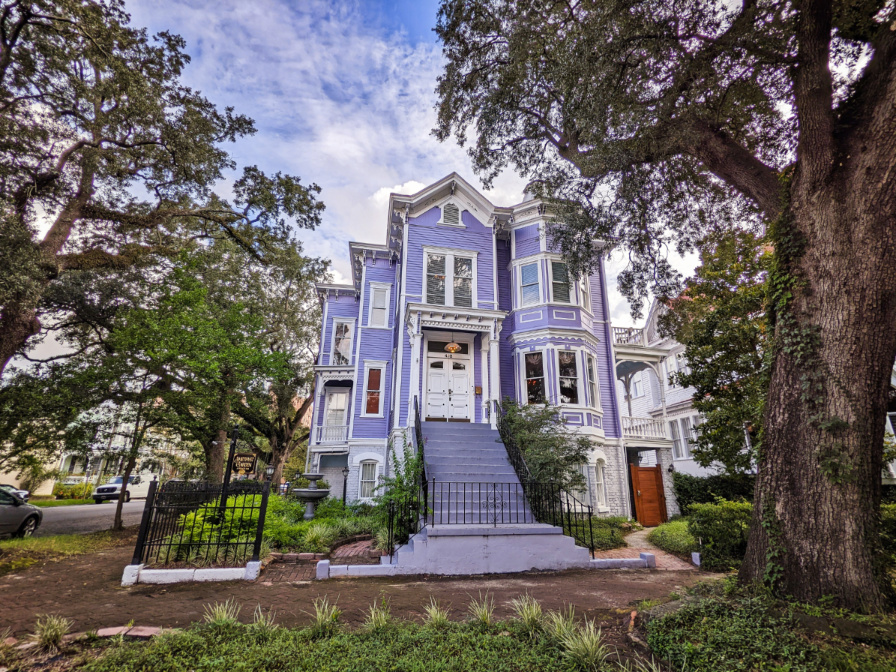 The Marshall House
The Marshall House is an elegant boutique hotel to book a stay in for its convenient location near many of Savannah's attractions and its refined, elegant atmosphere. The hotel is situated in a landmark building from 1851 and offers snug, simple rooms. Suites and upgraded rooms are also available and include additional amenities such as claw-foot tubs, wide living rooms, decorative fireplaces, and/or access to a shared balcony with rocking chairs. Kids aged 12 and under can stay at the hotel for free.
The Marshall House really is one of those iconic Savannah buildings, and as you walk on Broughton you can't miss it. There are tons of restaurants and bars within steps of the Marshall House, so it's an easy location, especially if you're doing a bachelorette party trip or are visiting for the first time.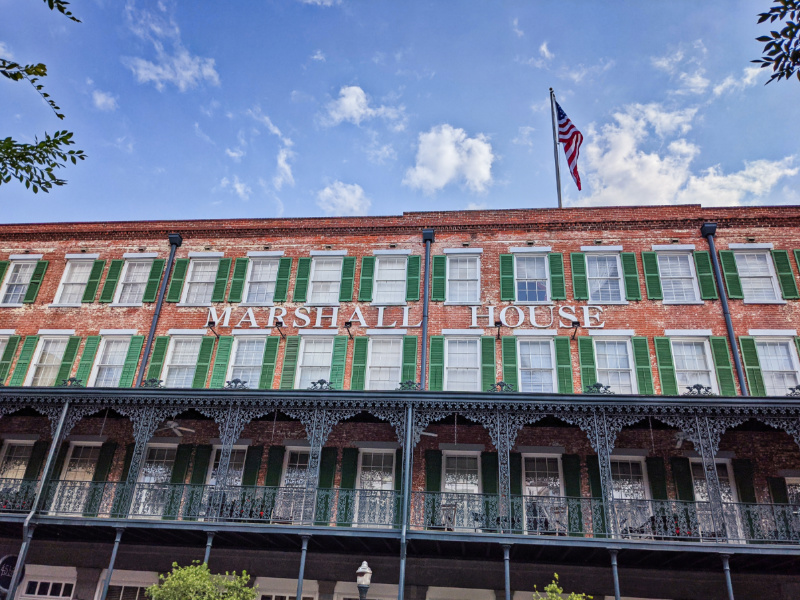 The Kehoe House
The Kehoe House is an excellent example of an antebellum home. It has been meticulously restored to its original grandeur and offers modern amenities and luxury accommodations. The inn is close to Rousakis Riverfront Plaza, where you can find shopping, dining options, and Telfair Museums. If you're looking for a historic and elegant place to stay in Savannah, the Kehoe House should be at the top of your list!
But okay, here's the thing: the Kehoe House is considered to be one of the haunted places to stay in Savannah. It's on several ghost tours and some guests choose to stay here specifically because they've heard it's haunted. I don't go for the whole haunted house thing, but a lot of people do, so this may be just the perfect inn for those folks.
The Isetta Inn
The Isetta Inn, in Savannah, Georgia is a unique stopover for travelers. It offers guests a safe and affordable place to stay while providing easy access to the city's arts community. The Inn is also a popular destination for outdoor adventurers, as Savannah is home to beautiful parks and nature preserves.
The Isetta Inn is one of the most unique places to stay in Savannah and truly is unusual. The decor, the art, the vibe… Check out the Isetta's website to really get a good feel of its unusual character.3
Note: the location of the Isetta Inn is not terribly far from Forsyth Park, but it's much more in a bedroom community than a tourist area. There are lots of great restaurants, including the Vault (Asian fusion restaurant) and Starland Yard.
The Olde Harbour Inn
The Olde Harbour Inn is a charming hotel located on the waterfront, so you can enjoy dazzling views of the river and the city. The rooms are chic and comfortable, with all the amenities you need for a relaxing stay. Plus, the hotel offers free wine and cheese receptions in the lounge every night!
I really like the location of the Olde Harbour Inn because it's at the eastern end of River Street, so it's a bit more quiet and great for morning walks. It's easy access from here to the DOT trolley line or if you're doing a riverboat cruise.
Book the Olde Harbour Inn here!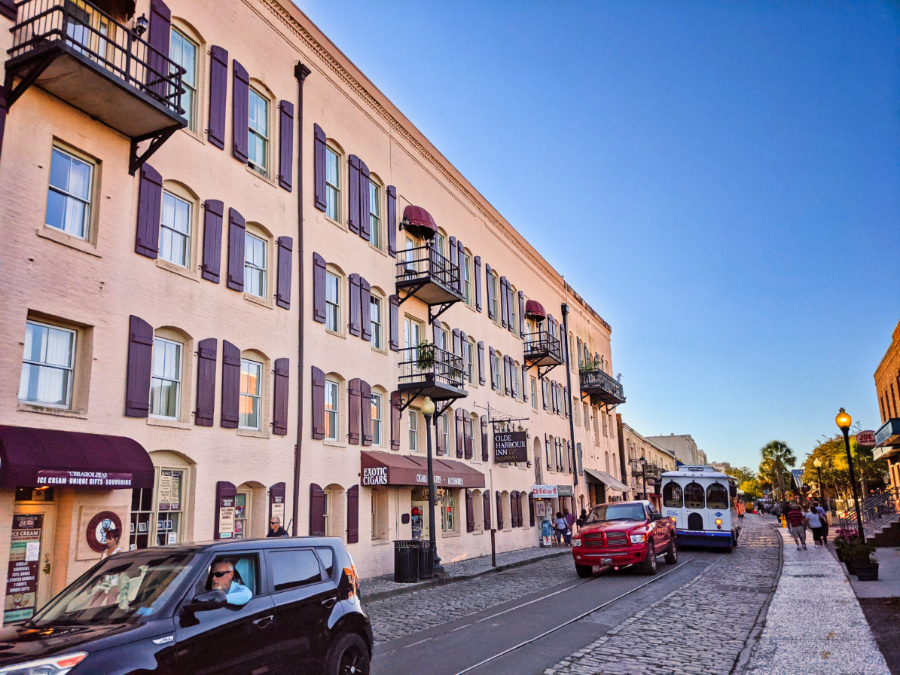 The Hamilton-Turner Inn of Savannah
The Hamilton-Turner Inn of Savannah is the perfect place to stay if you're looking for a luxurious and historic experience. The Inn is within walking distance of many of the city's most popular attractions. The rooms and suites at the Inn are elegantly appointed with plush furnishings and décor, and all feature flat-screen TVs and high-speed Internet access. Some rooms even have fireplaces, balconies, 4-poster beds, and claw-foot or whirlpool tubs. In addition to a delicious breakfast served each morning in an opulent dining room, guests of the Hamilton-Turner Inn can enjoy free afternoon refreshments and an evening happy hour with wine and snacks.
A landscaped brick courtyard provides the perfect place to relax and enjoy the Savannah weather. Also, the Hamilton-Turner Inn is close to my FAVORITE square: Troup Square, which features a large, beautiful zodiac compass sundial. Really cool! Whether you're looking for a romantic getaway or a historic vacation, the Hamilton-Turner Inn of Savannah is the perfect place to stay.
Book the Hamilton-Turner Inn here!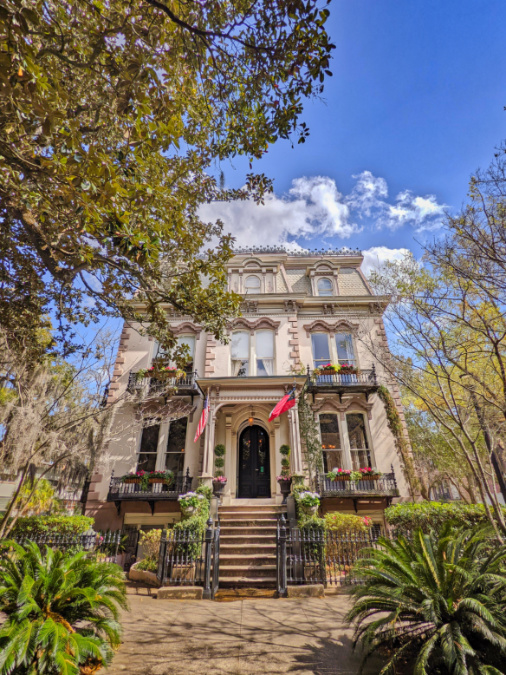 If you're looking for a gorgeous and charming place to stay in Savannah, be sure to check out the Historic and Victorian Districts. Full of beautifully restored homes and hotels that will make you feel like you've stepped back in time, I know you'll find a wonderful place for a getaway.
We love to help people plan their travels, so if you have any questions or additional suggestions that you recommend, please leave a comment or send us a note. We're happy to share more!