While hot coffee might not be a top pick for strolling around Savannah in the summer, iced drinks and seasonal coffees for sure are. And don't worry, Savannah gets cold in the winter so you can grab a hot beverage to go and enjoy the sights sipping on some of the best drinks from downtown Savannah coffee shops.
There are so many coffee shops in Savannah, Georgia, that offer a fun, beautiful, and unique atmosphere for visitors to enjoy. The coffee shops here have a lot of character and charm, which makes them a great place to visit. One of the best things about coffee shops in Savannah, Georgia is that they offer a variety of different types of coffee and a variety of different kinds of food (especially cakes). There is no better way to enjoy the city than by enjoying a cup of coffee in one of the many delightful cafes here.
Favorite Coffee Shops in Savannah
Savannah, Georgia, is no stranger to the coffee shop culture. The city is full of unique cafes offering various coffee and tea options. If you're looking for a place to study or work, or simply want to people-watch, a coffee shop in Savannah is perfect for you. If you're a coffee lover, you'll definitely want to check out some of the best coffee shops that Savannah Downtown offers during your visit.
The Coffee Fox
The Coffee Fox is a hip and trendy coffee shop located in the heart of Savannah Downtown. Its exposed brick walls and chic décor make it the perfect place to enjoy a cup of coffee and people-watch. The coffee is excellent here, and they have a great selection of pastries and sandwiches.
Perc Place Coffee Roasters
If you're looking for a cozy and intimate café experience, you'll definitely want to check out Perc Place Coffee Roasters. This hidden gem is located down an alley off of Bay Street and is the perfect spot to enjoy a cup of freshly brewed coffee while surrounded by brick walls and vintage décor. The coffee is top-notch here, and they also offer tea, hot chocolate, and other beverages if you're not in the mood for coffee.
Gallery Espresso (my favorite!)
Gallery Espresso is one of the most popular coffee shops in Savannah Downtown because of its convenient location near all of the best shopping spots and attractions. It's also one of the oldest cafes in the area, so if you're looking for historic appeal, then this is the spot for you. They offer a variety of pastries and light breakfast items if you need something to tide you over until lunchtime.
Collins Quarter at Forsyth for Coffee
Collins Quarter is a relatively new addition to Savannah Downtown, but it has quickly become one of the most famous places for locals and visitors alike because of its delicious food and excellent coffee. The décor is modern yet cozy, making it the perfect place to relax with a cup of joe after a long day exploring the city. They also have an creative food menu if you're looking for breakfast, lunch, or dinner options. Their Madagascar vanilla latte is a must-try! There's a Collins Quarter on Bull St and one in Forsyth Park. The Forsyth Park location is ideal for coffee and sitting out on the patio.
Mirabelle Café + Bakery
Mirabelle Café + Bakery is one of the best places in Savannah Downtown for fresh pastries and homemade breads. In addition to their baked goods, they also serve excellent coffees, teas, sandwiches, salads, quiche dishes, and more. It's the ideal place for breakfast or lunch if you're looking for something hearty yet tasty.
The Paris Market and Brocante Café
This iconic café is located in an old French marketplace and is perfect for people-watching. Grab a seat at one of the outdoor tables and enjoy people-watching. The coffee here is awesome, and they offer a wide range of pastries and sandwiches if you get hungry.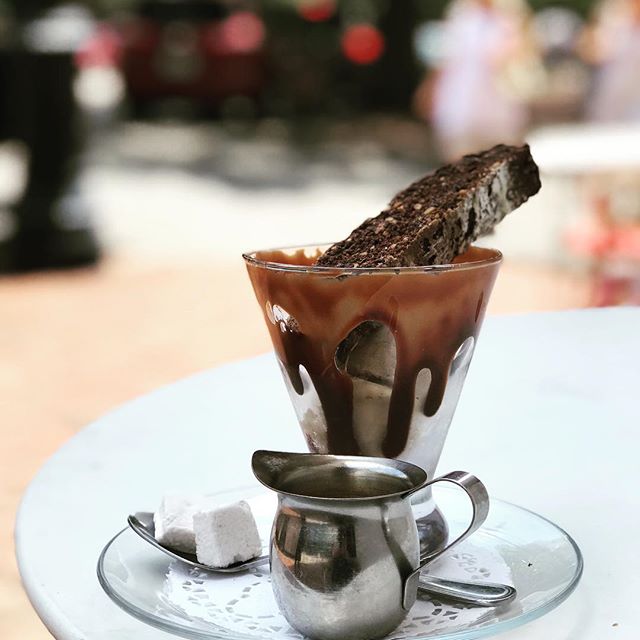 Gryphon Tea Room
Gryphon Tea Room is another great option if you're looking for somewhere special to enjoy afternoon tea and coffee. The tea selection here is fantastic, and they always make sure to fill your plate with delicious sandwiches, scones, and pastries. This is a place where you want to take your time and savor every bite! It can get pretty busy here during peak times, so make sure to come early or make a reservation if possible.
Note: the Gryphon is a part of SCAD so dining here supports the students in the culinary arts program.
Location: 337 Bull St, Savannah, GA 31401
Arts Café
Located directly next door to the Gryphon Tea Room, Arts Café is a fun coffee shop that offers beverage, lunch and snacks, and SCAD gear. The Savannah College of Art and Design is woven through this whole space, like it is the whole of Savannah's neighborhoods. This fun café is a great place to enjoy a combination coffee shop / student arts atmosphere.
Location: 345 Bull St, Savannah, GA 31401
Savannah Coffee Roasters
Savannah Coffee Roasters is a family-owned and operated coffee shop located in the heart of downtown Savannah. Their goal is to serve only the best quality coffee sourced from ethically and sustainably grown beans. Their relaxed and inviting atmosphere is ideal for catching up with friends or getting some work done. Stop by and see what makes Savannah Coffee Roasters the best coffee shop in town!
Blends a Coffee Boutique
Blends a Coffee Boutique is a cozy little coffee shop located downtown and offers a variety of delicious combinations to choose from. The coffee here is always fresh and flavorful, making it the perfect pick-me-up on a busy day. The staff is also super friendly, so you can always count on them to help you find the ideal blend for your taste. Whether you're a coffee connoisseur or just looking for a quick caffeine fix, Blends a Coffee Boutique is sure to have what you're looking for.
These are just some of the many coffee shops that Savannah Downtown offers visitors (and residents). Whether you're looking for a trendy and cool spot or a cozy café with historic charm, there's sure to be a spot that suits your fancy. So next time you're in town, be sure to check out a few of these fantastic places!