Since we call Forsyth Park and the Victorian District our home away from home, it's where we tend to dine out the most. There are plenty of great places to eat around Forsyth Park, you just need to know where to look for them. These are our top picks for dining in the area directly adjacent to Forsyth Park.
Note: this list is ever evolving and is NOT comprehensive. We've included places that we really enjoy and return to. If there's a spot that's missing, either we haven't been yet or didn't like it enough to include it. Feel free to leave a comment or send us a note if we're missing a great place to eat near Forsyth Park!
Great Places to Eat in Savannah's Forsyth Park / Victorian District
We really love spending time at Forsyth Park. It's where our place is located (see our Forsyth Park vacation rental here!) so we spend most of our time in Savannah in the Victorian District surrounding the park. Both in the neighborhood surrounding Forsyth Park and the main street, Bull Street, there are lots of great places to eat in Savannah.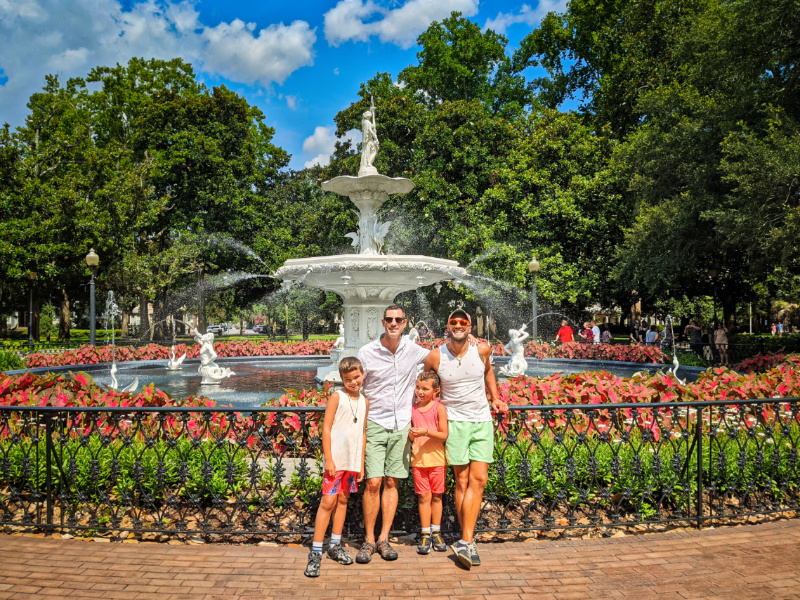 Brunch at Collins Quarter Forsyth
I often think that we need to venture out further and find a new brunch place because we keep going back to Collins Quarter in Forsyth Park… but then I remember that we keep going back because we love it. From the pork belly benedict to the kale pesto on mushroom toast, it's just always good and always a great experience.
With both indoor and outdoor seating, eating at Collins Quarter is a lovely activity at Forsyth Park. You'll see that there is usually quite the wait on a sunny day after 11:00 am, but if you get there nice and early, you'll usually get seated pretty swiftly. Website here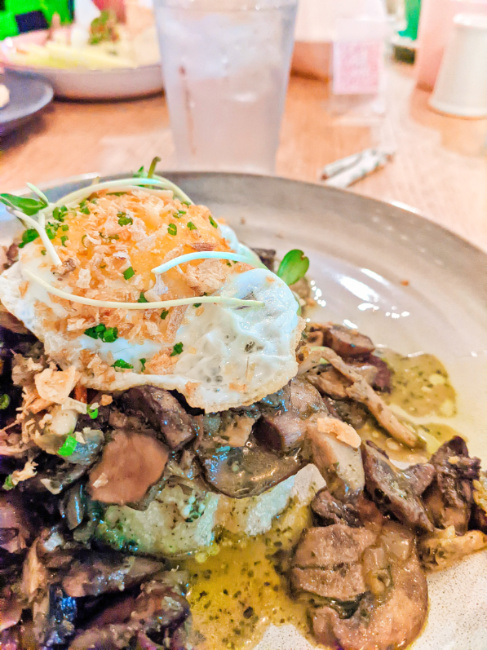 Coffee at the Sentient Bean on Park Ave
I love our neighborhood coffee shop, the Sentient Bean. They also make delicious vegetarian sandwiches and breakfast options in addition to their wonderful coffee. What I really love about the Sentient Bean is the atmosphere. You can sit inside, out on the sidewalk across from Forsyth Park, or on the back patio. It's never too loud, and always the perfect stop. Website here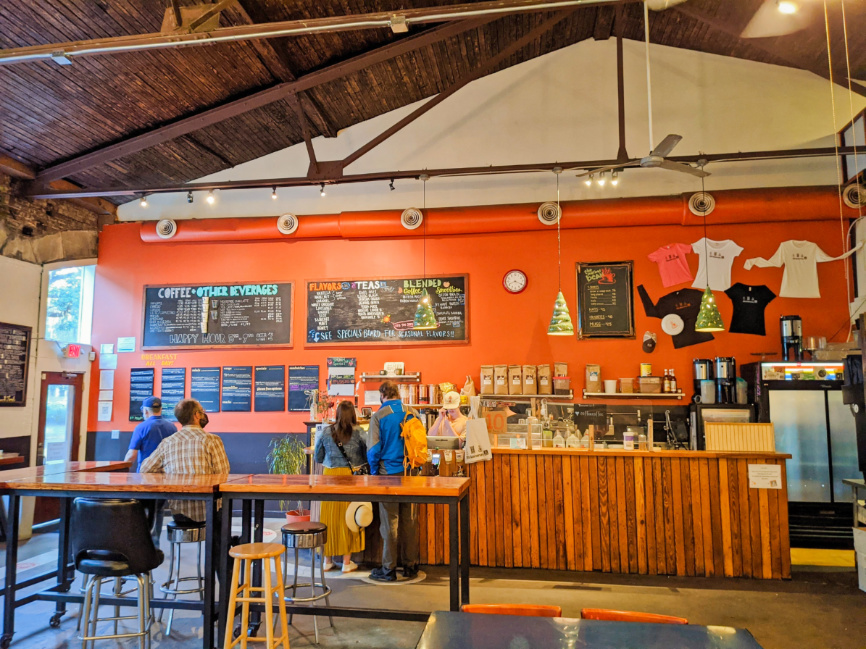 Sandwiches and Cocktails at the Black Rabbit
This is a little off the beaten path if you're not a local or not staying by Forsyth Park, but if you're in the neighborhood grabbing lunch or a sandwich dinner at the Black Rabbit is a must. Doing sandwiches by the half or whole, there are lots of great options for foodie adults or picky kids. Or picky adults.
The cocktails at the Black Rabbit are also winners. The Affectionate Reverence and Last Flight Out are my two favorite cocktails, but you can't go wrong with any of their signature drinks. Website here.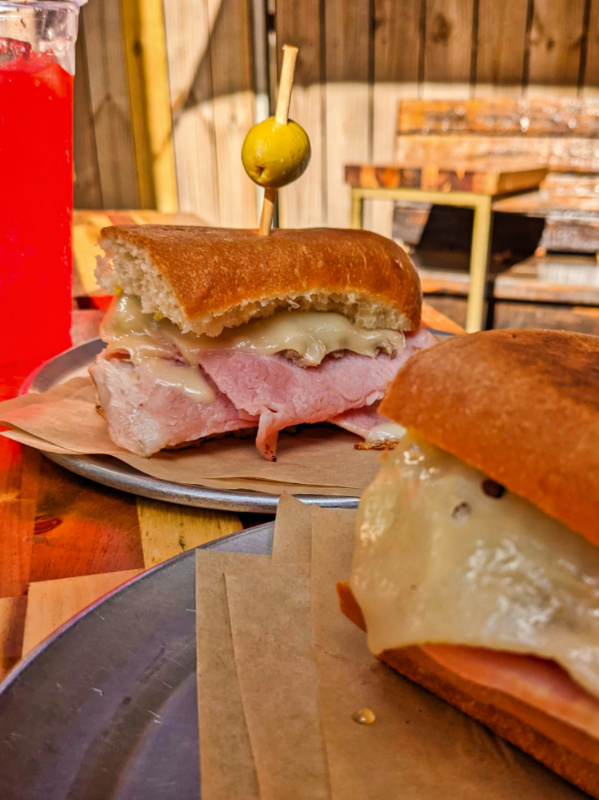 Breakfast or Lunch at Betty Bombers
Don't let the picture I chose for Betty Bombers discourage you; that's just my kid being a stinker. Betty Bombers is one of our favorite places to eat in Savannah for the fun atmosphere, historic location, and good menu. Take the most American menu you can make (Philly Cheesesteak and clubs) and put it in a diner setup with vintage WWII memorabilia, and you've got Betty Bombers.
Just a block off Forsyth Park, this is the perfect Saturday lunch spot. It's a block from our house, so I mean, easy peasy and delicious. Website here.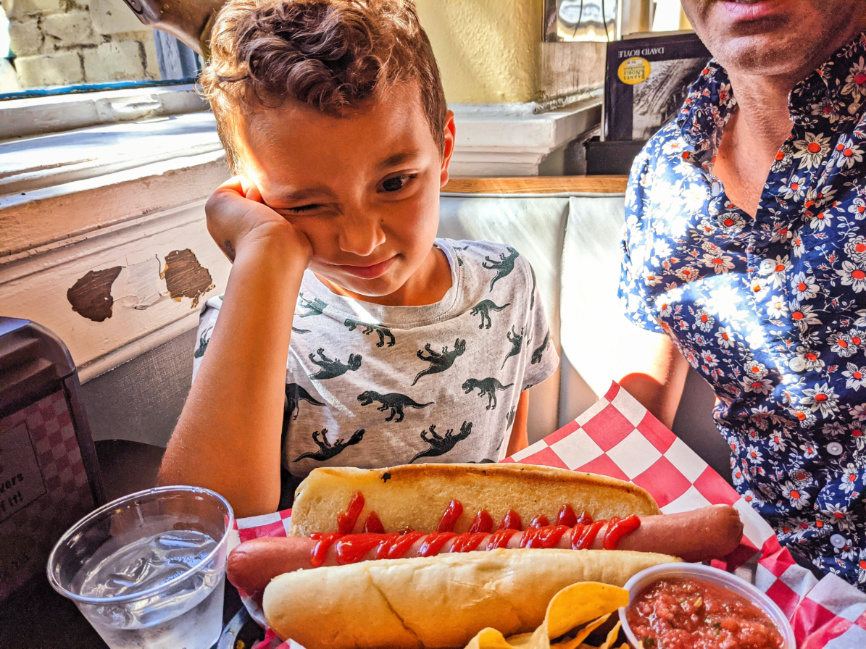 Vegan Breakfast and Snacks from Brighter Day Natural Foods
Living in the South, it's tricky to find super healthy or vegetarian/vegan options. Savannah is great for it though! When we relocated from Washington to Florida, healthy food choices wasn't really something we expected to be more rare. One of our favorite places to eat in St Augustine is the Manatee Cafe where the are just the best at using sweet potato and sprouts for all kinds of stuff, and the Brighter Day Natural Foods Deli is great at it too.
The other bonus of Brighter Day Natural Foods is that you can also do grocery shopping there. If you're staying near Forsyth Park, it's an easy walk to find healthy options. Stock up your vacation rental kitchen and grab something from the deli window at Brighter Day. Perfect! Website here.